Belarus warns the West if 'aggressive Russian rhetoric continues' then the usage of nuclear weapons 'would be the subsequent step'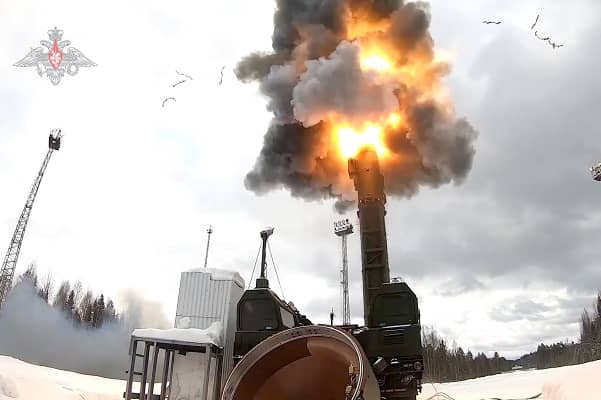 Russian troops have "educated" Belarusian forces on easy methods to use tactical nuclear weapons and Belarus have warned that they're now at a "excessive degree of readiness."
In March this yr Vladimir Putin allowed his nuclear Iskander weapons to be stationed in Belarus and the current replace is fear for the West.
The Russian Defence Ministry mentioned in a press release, "At one of many coaching grounds of the Southern Navy District, since April 3, the crews of a separate missile division geared up with the Iskander-M operational-tactical missile system of the Armed Forces of Belarus have been educated."
Learn extra on Russia-Ukraine battle:
Russian nuclear bombers fly close to to Norwegian airspace and fighter jets intercepted over the Baltic Sea
The assertion added that the Belarusian army "confirmed glorious outcomes" which "confirmed a excessive degree of readiness to carry out duties as meant."
The Belarusian President Alexander Lukashenko mentioned that that is "this subsequent step" and warned the West in opposition to to cease being anti-Russia.
Belarusian Defence Minister Viktor Khrenin was requested over the Russian nuclear weapons being in Belarus, he mentioned that Lukashenko beforehand said that "we're the masters of our land."
The Belarusian Defence Minister mentioned, "We've ready tools – these are plane that may carry nuclear weapons. We've educated pilots.
"We acquired the state-of-the-art Iskander complicated, which might use missiles with nuclear warheads.
"There's a stir right here, however everybody didn't hear yet one more factor that our President mentioned: it's essential – we may also have strategic nuclear weapons."
He added that Belarus are "making ready the websites we've" and "if such aggressive rhetoric continues, this would be the subsequent step."
He continued, "On the specter of pressure solely by pressure. Another way, sadly now within the West they don't perceive."